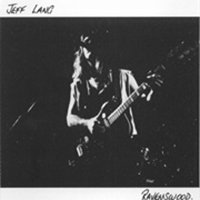 Ravenswood
Released 1994
"Ravenswood" – studio album
Furry Records FR001
Produced by Les Karski. Recorded by Mick Wordley and Allan Kelly at Mixmasters, Adelaide, South Australia in Feb 1994.
Jeff Lang – vocals, guitars, banjo, percussion
Joe Accaria – percussion
Chris Soole – saxophone on Winter Sun and 7th Of November
Les Karski – percussion on What's In A Name, bass on Heaven In A Cup
Rob Riley – mandolin on Heaven In A Cup
Phil Manning – acoustic guitar on Bells Beach and Candle
All songs written by Jeff Lang, except Mr. God (Tim Hall, Jeff Lang), 7th Of November (Casey Scott), The Girl Is Mine (Wendy Morrison) and A Little Rain (Tom Waits).
Scream

Winter Sun

Daddy's Alright

7th Of November

Mr. God

What's In A Name

Ravenswood

Heaven In A Cup

The Girl Is Mine

Feels The Same

Master Plan

A Little Rain

Bells Beach and Candle