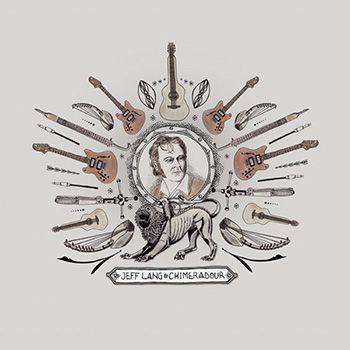 Chimeradour
Released 2009
ABC Music
Cat. Number: 2717429
Release Status: Available
CREDITS
All songs written by Jeff Lang except:
The End Of The Rainbow by Richard Thompson
Produced by Mark Opitz
Engineered by Colin Wynne and Mark Opitz
Studios
Recorded at 30 Mill Studio
Mastered at Deluxe Mastering by Tony "Jack The Bear" Mantz.
REVIEWS
Rhythms – Tony Hillier
AFRICAN CHIMES AND OTHER APPEALING NUANCES
JEFF LANG GIVES RHYTHMS THE GOOD OIL ON CHIMERADOUR.
BY TONY HILLIER
Chimera n – a fabulous beast made of parts taken from various animals. (Collins English Dictionary)
As Shakespeare famously mused, 'What's in a name?' Plenty, it would appear, when it comes to the intriguing, self-selected title of Jeff Lang's latest masterpiece.
The nomenclature reveals much about the music contained on the singer-songwriter-guitarist's ninth studio album, and indeed about the musician himself.
Chimeradour mirrors the myriad influences that maketh the man, offering fascinating insights as to why, within cooee of his fortieth birthday, the Victorian troubadour finds himself entrenched in the upper echelon of Australian roots music and with a burgeoning reputation around the world.
Like the titular creature from Greek mythology, Lang exhales fire. He's the keeper of a flame ignited in a melting pot of guitar gods and forged at the anvil of creativity into his own burning, blues-based songs.
Chimeradour offers a spectral sonic tour of his influences, most notably for this world music devotee, the West African sounds that have occupied his attention in recent times. "I've been going on a real Africa kick for a while, getting into some of the guitar bands like Tinariwen," he happily concedes. "I did a couple of shows on bills with those guys and really enjoyed what they're doing. There's a bunch of bands in that kind of grouping, like Terakaft, Group Doueh, who do crazy stuff, and Group Inerane, who get a bit psychedelic in places. I really enjoy the interlocking parts of West African bands. They usually have three or four guitars going at once. It reminds you in places of John Lee Hooker or someone like that, but then it's very much off to the side as well. It's got traces of very modal and droney, very hypnotic kind of blues music, but the way they do it seems to roll in a different way."
Jeff also genuflects at the shrine of the late, great Ali Farka Touré – "He's one of my favourites," he declares – and also admires singers Oumou Sangaré, Rokia Traoré and Habib Koité. "I was lucky enough to meet Oumou," he says. "She's a really lovely warm person and a great singer, and her band's incredible."
Echoes of West African guitar and kora modality tacitly inhabit Jeff's intricate guitar work in 'Two Worlds', the sublime track that opens Chimeradour. "If the song's in the key of G, they'll play in F major over G, avoiding the third interval, and so it's not major or minor," he says of the West African approach. "Some of the trills and the ornamental way of playing the guitar runs I was trying to work across to the lap steel. That's kind of where the guitar accompaniment for that piece came from. When you do some of those moves on slide guitar, they sound Indian because you end up bending between the notes."
Elsewhere on Chimeradour, shades of south Saharan desert blues mark the rolling, hypnotic lap slide guitar work on 'South', and the vintage electric guitar he plays on 'Home To You'. "There's a few streams running through 'Home To You'," he expands. "That song brought out a bit of a Hendrix influence as well, and also I was trying to get a bit of the feeling of blowing through the instrument, a sort of Coltrane kind of approach with the soloing. But, yeh, it's got a very insistent kind of propulsive rhythm going as well. Having fiddle in there definitely tied it in and made that track pump along. I played an early 60's Guyatone electric on that. Funny little guitar, that. Looks like someone had seen a Les Paul once, semi forgotten the dimensions and drew the outline from memory, only too small, then combined that shape with a headstock that gets the dimensions of a Stratocaster headstock, only too big this time. It might look like a toy, but it sounds bloody great!"
Lang doesn't deny that his recent association with Malian kora master Mamadou Diabaté and Australian-Indian tabla player Bobby Singh in the trio Djan Djan has impacted on Chimeradour, albeit subliminally. "It would have to. I mean everything that you do – whether it's working with Bob Brozman, playing with [the late] Chris Whitley, or gigging with Mamadou and Bobby – has a knock-on effect. When you finish playing with people like that, immediately afterwards it's almost as if they're still there in a way. You learn a lot from playing with great people, for sure. It's the same way as talking to someone and great ideas coming out of them, inspiring you to think in different ways. Music is a language and when you converse with really good people they inspire good ideas in you."
The alliance with US-based Diabaté and Sydney-based Singh he says happened in a natural, "unforced" way. "My manager, Jordan, was touring Mamadou out here and we were both on the Adelaide Guitar Festival bill. I caught his gigs there and he heard mine. Mamadou's an incredible player. He's got a real freedom to his playing, a jazz sort of improvisatory approach where he can just take off." The pair met at the festival after-party. "Mamadou was there and he started playing in the corner, so I started listening to him. He said: 'I really enjoyed what you played as well and it would be really good to play sometime.' Jordan had the inspired idea of including Bobby in the mix. I knew Bobby already and he knew me. He had to get to know Mamadou during the recording basically." The initial idea was to put out a five-track EP and, in fact, there were some copies done. They've since recorded some brand new pieces and the eponymous full length album, Djan Djan, is scheduled for a release in the first quarter of next year.
Djan Djan will be hoping to attract the attention of festival programmers from around the globe at the Australasian World Music Expo in Melbourne next month. In the interim, Lang will be fully focused on the release of Chimeradour, and a 22-date national tour to promote the new album. He's only recently returned from a mini world tour that included Canadian festivals in Quebec and Ottawa, the Fuji Rock festival in Japan, the Sakifo Festival on the Indian Ocean island of La Reunion, and four ground-breaking dates in China. "China was a new kind of experience – it's like a wild frontier. There's a presence of Western music there, but it's only the big sellers. There's no legitimate distribution network for records; it's essentially all bootlegs. It's intriguing to play in front of a few hundred people who basically don't know anything about what you do. In Beijing and Shanghai the venues we played were kind of underground rock clubs, holding maybe 400 people. They were really good fun. In Shanghai, there were a lot of expat Aussie, British and Americans, but at the other shows in Beijing, Qingdao and Tianjin it was nearly all Chinese."
Although Lang still performs solo, a lot of his work these days incorporates his trusty sidemen, bass man Grant Cummerford and drummer Danny McKenna. They have played shows together since the tour that launched You'll Have To Dig Deep To Bury Daddy in 2005, and the trio's frontman was keen to capture the energy they generate live, on Chimeradour. "I made the last record [2008's Half Seas Over] as just a two-piece with Grant. If there's an overlap between the records in terms of one passing the baton to the other, the song called 'Ghosting On My Mind' on the last record could have just as easily worked on this one as a band track. We've been doing songs off the last album as a three-piece that we recorded just as a two-piece thing, and that song in particular and 'Copper Mine' sort of take on this extra kinetic energy for having Danny in the mix. Things would start to get expansive at the gigs and a little bit kind of psychedelic and a bit explosive, so I was kind of interested to see if the right batch of songs would come out that would suit that. When certain new songs fell into the mix, like 'The Janitor', I said 'yes, good … this is something that will definitely fire on all cylinders when the guys get hold of it."
It would be hard to imagine a rhythm section better suited to serve Jeff's songs and his style of singing and playing, something that he readily acknowledges. "They're really great, the way their instinct works and how well they listen. They've got a lot of interesting and powerful things to say on their instruments. They're always thinking about the songs; they're not thinking about what's gonna make them more impressive. There's a real freedom to the way that Danny and Grant approach the material. It's like applying a jazz approach to song-based stuff, especially when it comes to the instrumental sections. The story goes so far in the literal language sense and then the instrumental section should extend that, but it's not necessarily about a guitar solo. Sure, I might be soloing on the guitar, but it's not a monologue – it should be a conversation, and that's the jazz approach. The guys just seem tuned into that."
Although Lang steered Half Seas Over himself, he opted for outside assistance in Chimeradour. He found a simpatico producer in veteran studio whiz Mark Opitz, whose résumé (he twiddled knobs on albums by such as Cold Chisel, INXS, AC/DC, The Angels and Divinyls) reads like a who's who of Oz rock. "I was interested in bringing someone else in to mix this record. Last time around, I kind of felt like I knew what to do with the songs. That's really the crux of it – I'll have a batch of songs and I'll try and pick the ones that get along well together. Last time, I had a batch of songs that indicated a clear-cut approach. We'd been playing them live, Grant and myself, they'd just been flowing and working and it didn't seem like a big deal to work out how to record them. This time around, I had a bit of an idea of what I wanted to do. I wanted to just try and capture the dynamic of playing with Danny and Grant. That was a bit of an impetus for me for the direction of the record, but in terms of the ins and outs of the specific songs, making sure that we captured that other side but were also focused on the direction of the songs individually, making sure that they really worked, I wasn't completely confident about."
Jeff had penned the new songs only a short while before he went into the studio to record the new album. "I basically wrote nearly all the songs in a couple of weeks worth of writing in April, and we recorded them in June, so I wasn't sure that I would have enough distance and perspective to be able to keep them on track. I thought it would be good to have someone else there, someone whom you respect but who isn't coming at it from the same place that you are. I spoke to people I know who had worked with Mark, like Don Walker for example. He said good things about him."
When Lang and his sidekicks did a week's worth of shows "to warm the material up" for Chimeradour, one of the pieces that graduated with honours was 'The Janitor', the fascinating track that brings the CD to a close. "When I wrote that song, I could just hear the way that was gonna work immediately. Mark was surprised that we played it at most of the shows because it's so slow and so dark. It's got a strange energy to it." He concurs that Don Walker's piano cameo helped create the requisite ambience.
One of the album's other "brutal" gems, and the sole cover song, Richard Thompson's 'The End Of The Rainbow', was recorded almost as an after-thought, simply because Jeff thought it might be fun to play something else on electric guitar. "Initially, I had thought of it as a 'bonus' track, not something to include, but Mark was always adamant. He said it was a 'must have'. We'd played that song only once before, at a soundcheck in Cairns, and threw it into the gig and we forgot about it immediately." Lang is an ardent fan of Thompson's. "He's been a big influence and someone's whose playing I absolutely love. If you're playing a song of his, you're never going to get away from him completely because it's very much tied in with how his sound works and how he plays. Others who are always in there for me on electric guitar are Roy Buchanan and Neil Young. Those three people are amongst my favourites for electric guitar playing."
The driving guitar rock style of Crazy Horse is prevalent on another song, 'Slow Rooms'. "We definitely approached that track with a Neil Young kind of thing in mind, but the way Danny plays drums on that is very reminiscent of the way Mitch Mitchell rolled through a song." There's more than a touch of Jimi Hendrix in Jeff's solo as well. His break on 'Edge Of The Light' on a fretless guitar, imbued with what its creator describes as "a gnarly sixties' fuzz", is perhaps more Jimmy Page. On the other hand, the looping he used on 'Two Worlds', he says, was definitely influenced by Bill Frisell. "I love his stuff – he's definitely an influence on how to apply certain effects." The narrative and guitar solo that makes 'I Don't Like Him Being in Here' utterly compelling is worthy of Richard Thompson at his best. "That song's coming from the place of a kid not knowing exactly what's going on and not knowing why he's feeling suspicious. We tried to keep the tension and dynamic when we recorded it in the studio." He succeeded!
'Half A Tank Of Hope' loses nothing from following 'The End Of The Rainbow' – indeed its comparatively upbeat stance is a perfect antidote to the nihilistic mood of Thompson's lethal lullaby. "Once again that's part of sequencing the tracks in the right way," says Lang. "It felt like the obvious one to follow 'Rainbow'." Lang's appreciation of track listing is evident earlier in the album with the sequencing of 'Home To You' immediately prior to the equally energetic but even bluesier 'I Want To Believe', which has the songwriter spitting out the words at the top of his vocal range, accompanied by a wicked guitar riff. "To my way of thinking, from the melodic standpoint, the way the voice and the guitar kind of weave around each other is the key. If the guitar part was strong enough on its own, I guess it would end becoming an instrumental. I tend to come up at my songs with a 'how the guitar works around the voice' approach. The two things fit hand in glove. For the vocal thing to work for me, the lyrics have to sort of hold water. Having something that feels worthwhile to sing and how the instrument and the voice interrelate is kind of the foundation of it for me. I've always been interested in narrative songs – those sort of songs definitely inspire me. Look at the way Richard Thompson and Bert Jansch write. A lot of the best of Dylan stuff has that too."
In terms of his songwriting, the Melburnian says his modus operandi has changed somewhat over the years. "I don't write as much on the road these days. It's easier to write when you're travelling around on your own. This time round I had to impose a discipline to make myself finish writing the songs for the album." Being a family man – he's married to fellow musician Alison Ferrier and they have a two-year-old daughter, Alice – has dictated that to a degree. "I made a bit of a routine for myself when it came to writing songs for Chimeradour – it's the first time I've tried this. Once my daughter was in bed and everything was quiet in the house I'd go out to the back shed and not come out until I'd written something. That worked really well actually. I was pleasantly surprised."
Lang also has to balance touring these days with familial responsibilities. "I certainly try to get periods at home if I'm doing a longer run in Australia, like the tour for this record. When I go overseas, three to four weeks is about as long as I like to go for nowadays." Jeff toured Ireland and the UK earlier this year but hasn't been back to the US for a couple of years. "I'm gonna have to get my skates on and get back over there again lest it die on the vine. I get emails from people all the time, asking 'when are you gonna come back over?', so I've gotta do something about that situation. I've always toured there in a low-key independent way rather than a huge promotion, so the chances of slipping off the miniscule part of the radar that you occupy is always a real possibility."
There's zero chance of Jeff Lang slipping off the radar in Australia. His home stocks have never been higher, and the release of Chimeradour and the October/November tour will ensure that they stay that way. He seems pretty content with his lot. "I've got no complaints about where I am. You take what comes your way. I always want to reach new people. It's not like a complacent approach to the career either, but at the same time I don't entertain any delusions that I'm kind of master of career-building. There are enough things that I've been trying to get some kind of handle on – playing, singing, writing songs and performing in a sort of generous spirit. Alongside that, you're trying to have a family life, where you're not just an absentee dad. If I don't have the commercial clout in any given country then so be it. I'll work with the parameters of what I've got."
The above cover story was published in the October, 2009 issue ofRhythms magazine.
The Age, EG – Michael Dwyer
The lion, goat, snake and olde minstrel of the title do not find peace in this bristling body of work. Melbourne blues-folk explorer Jeff Lang ranges from dark dreams to nightmares here, with his trademark atmosphere of some ancient heathen past haunting the tone and arrangements.
Two Worlds describes the limbo where he finds himself, a poor boy setting out guided by hostile voice in his head. What follows is most effective when his characters crystallise in the fog: the child witnessing his father's weakness in I Don't Like Him Being In Here; the abused wife in Another One Of Those Days, the father cursing his newborn in a thematically seamless cover of Richard Thompson's The End of The Rainbow. Best is, The Janitor, a murderous monologue from the sidelines of the annual disgrace that is the Melbourne Cup.
Give or take the respite of some spectacular string solos, the overarching anxiety makes a gristly meal of some of the more frantic or grinding songs but don't blame the messenger. He's just following those voices.
Reviewer: Michael Dwyer
Inpress – Sam Fell
A new record from Jeff Lang is always something to get excited about -such i~ the wide-reaching talent the man has displayed over his 20 odd years 'on the scene', you can be assured that whatever he releases will be of ethereal quality, of elegant poise and devastating destruction, of disturbed folk and of blues sensibilities taken from a time gone by and morphed for the frame of mind that Jeff Lang inhabits when making and recording music. His latest effort, then, is Chimeradour, his 16th release and one that follows on, quite closely, from the utterly outstanding Half Seas Over of a year and a half ago. The main difference between Chimeradour and its predecessor is the fact it's not just Lang and bass playing cohort Grant Cummerford involved, but also usual skinsman, Danny McKenna. As a result, this record is less sparse -it's got a rumble and a groove, a fine thing to be sure.
Having said that, this record is an interesting beast. Reading an article recently where Lang spoke at length about Chimeradour, I'd been expecting something different to what I eventually heard. Lang spoke about the myriad African influences that had seeped into this record (hardly surprising, given his affinity with all sorts of world music), but I must admit, I struggled to find any. In the article, Lang referenced such artists as Tinariwen, Ali Farka Toure and Habib Koite, but I drew a blank. But perhaps my mind isn't as much attuned to this sort of thing as Lang's -which truthfully~lIy,_ is no great surprise.
Anyway, overall, this record is fantastic; it's subtle and as such is a grower, but I don't think it really reaches as far from the record before it as his others have. Don't get me wrong, I Want To Believe has already become one of my favourite Jeff Lang tracks, as has South – the frenetic finger-picking blues stylings of the former, and the murky, layered folkishness of the latter, are both fantastic. Chimeradour is a great record once you've been properly introduced. I just can't help but think there could have been a bit more.
Reviewer: Sam Fell
The Adelaide Advertiser – Mike Gribble
Australia's premier guitarist is also a master of riveting performance; this disc all but spitting its kaleidoscopic dimensions from the player. As if singing story-songs above blistering foot-to-the-floor fingerpicking isn't difficult enough, Lang's sounds skip brightly with geographic transilience from seemingly incongruous African tunings which morph to deep blues and breakneck bluegrass picking. His vocals, plaintive and work toughened, then flighty and frenetic, add folds to his engaging delivery.
His power and melody (Home to You) build like the gentle hum of a red dirt road-train (Two Worlds) which sucks all into its roaring wake (South).
This puts accepted designs on integral Australian music in an entirely new light.
The Verdict: ****
In a word: Impacting
Reviewer: Mike Gribble
The Canberra Times "The Buzz" – David Curry
DARK HORSE
Jeff Lang has become more disciplined with his songwriting, DAVID CURRY writes …
Jeff Lang has a decidedly dark take on life, although you wouldn't guess it from his sense of humour in conversation and on stage. The Janitor, for example, is not the kind of song about the Melbourne Cup likely to be snatched up as theme music for next year's race.
"I wrote that after I went to the Melbourne Cup with some friends from overseas" Lang recalls, "I remember looking at the sheer mayhem trackside – we stayed until the end of the day – and the amount of mess left lying around. I thought, "Imagine if you had to stay for the end and clean this up, you'd loathe everyone".
The Janitor closes Lang's new album, Chimeradour, which was recorded with veteran Australian producer Mark Opitz (INXS, Cold Chisel) at the helm. The power and intensity of the slide guitar solo at the end of the song is a reminder, if it was needed, of why the Melbourne-based musician is widely regarded as one of the best roots musicians Australia has produced.
Part blues, part prog-rock, part folk, and even part Indian and African, Lang's guitar playing – particularly his slide work on dobro – is rarely less than brilliant. John Butler, renowned for his own lap slide playing, describes Lang as "the man", while Australian guitar legend Ian Moss says he is "f—— amazing".
Lang's restless muse has seen him regularly search out collaborators. It's been a fruitful exercise. His 2002 collaboration with US slide guitarist Bob Brozman, Rolling Through this World won him an ARIA, while his 2006 album with the late Chris Whitley, Dislocation Blues, has been described as "a roots masterpiece".
Last year Lang's search for collaborators took an unlikely turn when he teamed him up with kora player Mamadou Diabate and tabla player Bobby Singh. The trio released a teaser last year called Djan Djan, named after the group – but more is to come.
"It was interesting as an idea, playing slide against the kora, which is a more staccato instrument, and the notes aren't bent," Lang says. "It's kind of a world music fusion thing.
"We had the EP, but we were coming out with much more stuff, and it seemed a shame not to do more." The EP, now out of print, will be bundled with the five other pieces, recorded live, for a 10-track album, Djan Djan.
Now with a two-year-old daughter in tow, Lang says he had to be disciplined about songwriting for Chimeradour for the first time in his life.
"It was a matter of locking myself in a room until I'd written something. In the first night, I wrote three songs that are on the record."
He also made a conscious decision to allow plenty of room on the album for what he calls the "instrumental" sections.
"Slow Rooms and Fast-Blurred Faces – that's what I think of as a "guitar solo', where it's overdubbed. For songs like The Janitor, it's really an instrumental section, where the main guitar and vocal, bass and drums are recorded live" he says.
"There's a place for music like The Ramones, where it's all over in a minute and a half, but if you do want to go on a journey, that's what I do. You can tell a story beyond words with the sonics, a story that would be different for each person while they listen to it."
Lang enthuses about the two musicians he recorded Chimeradour with, and who play on the current Australian tour: Grant Cummerford on bass and Danny McKenna on drums. He describes their playing together as "conversational".
"What happens on the guitar depends very much on the rhythm section. When it flows, you don't think about it."
By David Curry – November 12, 2009
Sauce, Tasmania – Interview by David Williams
By David Williams – 28 October 2009
The Australian – Tony Hillier
Listening to a new Jeff Lang album is akin to a cinematic experience. Not the formulaic popcorn kind served up at suburban multiplexes; more the world-oriented art-house fare available in independent theatres. While others succumb to homogeneity, the Victorian singer-songwriter-guitar whiz steadfastly stands his ground, left of centre, like the titular fire-breathing mythological beast of his new title.
Images from Lang's latest album sear the brain and scour the soul. Like confrontational movies, the troubadour's take-no-prisoners tracks linger long after the house lights are raised. Lang cites influences as thick and fast as Tarantino, only with more subtlety. I Don't Like Him Being in Here, a song articulating childhood insecurity, is a masterful study of implied menace, with a guitar solo worthy of Richard Thompson matching the mood of the piece.
Concluding track The Janitor uses jazz modality to create a dark ambience, the dissonant tinkle of Don Walker's piano accentuating discombobulating air. On Two Worlds, the album's relatively meditative opener, Lang's guitar trills have a whiff of West African kora and Indian ragas combined with the ambience of Bill Frisell or Daniel Lanois.
The compelling riffs that propel Home to You and South, deploying vintage electric guitar and lap steel respectively, hint at the north Malian desert blues of Tinariwen or Ali Farka Toure. I Want to Believe has a harder-coated, almost manic, blues base; Edge of the Night an intensity of Led Zeppelin magnitude.
A mix of Hendrixian lead guitar and Mitch Mitchell drums permeates Slow Rooms and Fast-Blurred Faces. The similarly well-named Half a Tank of Hope is a perfect antidote to the nihilism of The End of the Rainbow, the set's sole cover, which precedes it. Thompson would approve of the latter's twisted electric guitar-picked outro.
Veteran Australian producer Mark Opitz (AC/DC, Cold Chisel, INXS) gives Chimeradour just enough rock edge without detracting from Lang's plaintive upper register vocals and guitars, which work in perfect unison with Grant Cummerford's bass and Danny McKenna's drums.
By Tony Hllier – 10th October 2009
Two Worlds

Home To You

I Want To Believe

I Don't Like Him Being In Here

Edge Of The Light

Slow Rooms and Fast-Blurred Faces

South

Another One Of Those Days

The End Of The Rainbow

Half A Tank Of Hope

Things Are Coming Back My Way

The Janitor