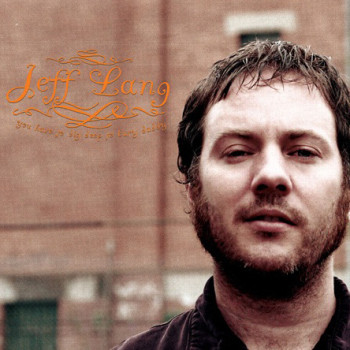 You Have To Dig Deep To Bury Daddy
Year of Release: 2005
Cat. Number: ABC 14512 Release Status: Available
Bonus Disc Track Listing:
Sail Away Ladies / Prepare Me Well
Slip Away
Rain On Troy
I Still See You
By Face Not Name
London
Everything Is Still
Big In Japan
CREDITS
All songs written by Jeff Lang except:
Motherless Children Have A Hard Time (Trad. Arr. Jeff Lang)
In My Time Of Dying (Trad. Arr. Jeff Lang)
Damaged People (Don Walker)
Producers: Jeff Lang and Tim Hall
Studios
"Look What I Found" Sound Brunswick, Victoria
30 Mill Studios Brunswick, Victoria
Seventh Dimension Brisbane
ABC Southbank, Victoria
Engineers
Tim Hall
Jason Cash
Michael Wild
Chris Lawson
Mastered at Sing Sing by Tony "Jack The Bear" Mantz.
Reviews
Reviewer: Julie Fox – 
Sydney Blues Society's Newsletter – November 2005
It seems no time since I reviewed Jeff's previous recording, Whatever Makes You Happy, and now we have another work of art – "You Have To Dig Deep To Bury Daddy". Unusual title, until you learn that it is an old Gypsy saying.  Bit worried there for a moment Jeff!
I don't use the term "work of art" loosely – Jeff's songwriting and playing are the work of a true craftsman, from the lyrics to the many, and sometimes unusual, instruments he employs to produce another first class CD.  "Dig Deep" sees  the collaboration this time with Tim Hall as producers, as well as backing vocalist/percussionist.  Bass duties go to one of Australia's top players – Grant Cummerford on upright and electric bass.  Other musicians lending a hand are Ian Collard on harmonica, Anthony Shorte and Angus Diggs, drums, Chris Finnen, percussion, as well as Alison Ferrier on fiddle and percussion.
Jeff's choice of instruments this time around are none other than;  lap steel, (acoustic, electric and bass), guitars (acoustic, national, supro resophonic, bottleneck), drums, percussion, chumbush, ukulele, weissenborn, harmonium, tenor banjo, wind samples, percussion.  Phew!  And you thought Jeff just grabs a guitar and belts out a few tunes hey?!
Now the lyrics – have you ever wanted to be a fly on the wall while Bob Dylan is writing, trying to understand where those amazing lines come from, or what they mean for that matter?! Well here we have our own "Bob", with lyrics from the opening track "Till They Cut Me Down" – down below buildings are turning from factories to magic lights that glow and I am taking on a darkness of my own windshield of dead flies, no longer free to roam. Don't you love them! And you get the bonus of some very ethereal music weaving in and out. How can anyone take Australian Idol seriously after listening to this!
There are 14 tracks to immerse yourselves in – some ballads, some highly charged , quiet instrumentals, but all of the highest musical quality – no CD fillers here. Standout tracks would have to be "Here She Comes Again", the beautiful instrumental, "And All The Snow Melted", or the heartfelt ballad, "Molasses and Stone". Actually, there are no standout tracks – I love them all! Jeff should be very proud of his latest creation.
Grab yourself a copy and try to see Jeff play live at a venue near you – both amazing experiences. Just ask the lighting guy at the Heritage Hotel, Bulli, who asked Jeff to finish his act halfway through a song – I promise you he won't be doing that again!
Reviewer: Michael Dwyer –
The Age (Melbourne, Australia) – 20 October 2005
Jeff Lang can't talk over the boot-scootin' nu-country Ken doll on the video jukebox. He strides across the cafe and empties his pockets into the slot, picks some vintage Stones, Animals and Easybeats and sits back down.
The book at his elbow is Dylan's Daemon Lover, an archaeological thesis that traces the evolution of one obscure and disturbing Bob Dylan recording, The House Carpenter, 450 years deep into the transatlantic folk tradition.
"You have to dig deep to bury daddy" is a gypsy proverb. It's also the title of Lang's new record, a dark and roughly hewn collection of murder ballads, fugitive songs and earthy blues/ folk instrumentals that seems to reflect the sentiment on several levels."
It does have that murder ballad connotation," he says, "but also, musically, over the course of your life you try to reach deep into yourself and transcend your musical forebears. Hopefully the synthesis of all those things that influence you ends up forming your own sound."
Lang's journey out of Geelong to considerable acclaim on the international roots music circuit is testament to his success in that regard. Back home, this album is his fifth to be nominated in ARIA's Best Blues & Roots category, even if it's somehow more evocative of 1905 than 2005."
The tone was set by the instrumental pieces," he says. "They'd been recorded during (his last album) Whatever Makes You Happy but they didn't seem to fit. This time I thought I'd like to use them. I liked the mood they had and we picked songs along similar thematic lines."
Titles such as In My Time of Dying, The Lonesome Death and I'm Not the One Sweating Like They Just Told A Lie begin to describe the ominous atmosphere that inspired the trip. Another of the first tracks Lang recorded was Damaged People, a spooky guitar-vocal arrangement of a disconsolate existential tune penned by one of his old employers, Don Walker.
All up, the album's style and subject matter conspire to weave a shroud of an intriguing and desolate hue. Its intensity of character was further enhanced by the way it was recorded, Lang says.
"There was a bunker-ish sort of sound we were going for. If you mic up the room properly the room itself can become a character on the record. I picked a certain space that had an almost claustrophobic sound, like a one-car garage of bricks and concrete.
"I decided to record more-or-less experimentally, to go in with a bunch of instruments, some of which I wouldn't normally use at a gig, like the Turkish string thing (chumbush), banjos, various percussive things, some cheap and battered guitars that had to be down-tuned in case they fell apart…"
Then he started hitting them with spanners and singing traditional gospel lines into an old guitar pick-up, and otherwise improvising his way through an imagined landscape of busted cars and tombstones and blind desperados with pocket knives.
It's a compelling road trip that reaches its darkest moment with Between the Dirt and the Sky, an unsettling double-murder narrative that tangles two different points of view en route to a cold prison cell.
Lang says he has "no idea" how he came to write it, though one suspects the book at his elbow might contain a few clues.
"A lot of the old folk ballads, the Harry Smith anthology (of early American folk songs), they're full of dark stories," he says. "Pretty Polly, The House Carpenter – they're almost amoral tales, in a way. They throw virtue up in the air. That ambiguity gives you a lot of room for interpretation."
Beat Magazine (Australia) – 12 October 2005
Reviewer: Nick Snelling
Lord knows what patriarchal soil Jeff Lang tilled to fuel his tenth album, You Have To Dig Deep To Bury Daddy, if indeed the album title is even autobiographical, or just another projection of the first person narrative that runs through it, but either way, it cements him all over again as a guitarist of unparalleled talent in the Australian roots scene.
Lang has a high, raw, almost torn voice, and he employs it to haunting effect with opening number 'Til They Cut Me Down. He's always penned lyrics of profound power, but when he utters lines of such poetic beauty as 'Orange skies over West Gate traffic flow, turning the bay into folded sheets of copper/Down below, buildings are turning from factories into magic lights that glow/And I'm taking on a darkness of my own' his lazy lap-steel work and the slow blooze shuffle take a back seat to the stark imagery conjured.
Check the chattering bluegrass feel of Here She Comes Again which sounds like it could have been recorded in some Appalachian backwater shed; the dusty country lament of Molasses & Stone; or the toe-tappin' elbow-slappin' preacher blues of Un-natural Act, complete with cotton-field choir, where Lang hollers like he occupies the plywood pulpit of some ramshackle church in the deep South.
The instrumental Carriages In The Halflight Rush may as well soundtrack some sort of miserably noir western film, and indeed, it's this sort of darkness and sadness that embues the entire album, accentuated by the funereal artwork and images of an overgrown cemetery.
In classic country storytelling style, Between Dirt And Sky builds a tragic tale of spousal abuse, murder, and unjust imprisonment. Lang has toured hard through the American Mid-West, and all these stateside sojourns must have rubbed off a little – he has obviously drawn influences from other bonafide roots acts with whom he's shared a stage. Something tells me he would have dropped a few jaws even amongst the old-timers, though. The term 'roots' has never been more appropriate when it comes to the authentic atmosphere generated by the guitarist's inimitable style. He's the genu-whine real deal, boy. It's there in the morality tales that form his lyrics, the melancholic ramble, and that sad feeling of truckstop loneliness, as he plucks, picks and slides his way through electric lapsteel, chumbush, ukelele, tenor banjo, amplified national and plain old six-string acoustic guitars.
Anyone who's witnessed the man live, can testify to the fact he's a one man band. Still, whilst he commandeers the majority of instruments for the recording, he also has some friends with serious credentials to help him out. Grant Commerford takes on a variety of bass duties, while Ian Collard wields a mournful harmonica through a traditional arrangement of Motherless Children Have A Hard Time.
Lang leaves the album with a touching and tender rendition of Don Walker's recriminatory address to God, Damaged People, and it's this ballad that brings out the soulful beauty of the guitarist's glorious upper register.
For any blues afficianado, lover of true roots music, or back to basics country, You Have To Dig Deep To Bury Daddy is a must have, and with the tasteful cardboard packaging, and bonus live disc featuring nine of his other live favourites (including Slip Way, London and his Tom Waits cover Big In Japan) it will no doubt earn a prized place amongst any guitar-o-phile's collection. I would not be the first person to cite Jeff Lang as a living national treasure. Hell, for what it's worth, even John Butler has been quoted on many occasion as saying 'no one plays guitar like Jeff Lang'. Ain't that the truth.
dig's New Music – 18 August 2005
Reviewer: Stuart Matchett
Jeff Lang is an unbelievably talented guitarist. He proves this on this album in instrumentals, in songs and on the bonus CD of live material. He writes great songs which are about Australia and life. (O.K., "Lubbock Texas" isn't about Australia but its story of the death of a child in a truck accident and the
consequences makes for a good song). Jeff gets a wide range of sounds from a wide range of guitars, including a solo on a distorted ukulele, and the arrangements range from solo instrumentals to full band performances.
This album consolidates Jeff Lang's position as one of the best blues and roots performers anywhere."
The Planet – 29 August 2005
Reviewed by Doug Spencer
"Jeff Lang's new album has an arresting title: You Have To Dig Deep To Bury Daddy. The music lives up to it. Lang's instrumental mastery – primarily, as a slide & fingerpicking guitarist, equally striking at very high & very low volume – was obvious, even when he first took to Australia's stages. He's now a drawcard in the northern hemisphere, too.
Lang's instrumental potency & subtlety have continued to develop. Even more striking has been his growth as singer & songwriter. His original songs & tunes draw deeply on the usual North American blues-etc 'roots', but are also informed by various other traditions, including British, Irish, Indian & African, plus more 'postmodern' elements. The initial release of his new studio album includes an excellent bonus, live CD."
Sydney Morning Herald – 26 August 2005
Reviewed by Bruce Elder
Blues man Jeff Lang insists on being a square peg in the record industry's round hole.
Beyond the bubble-brain world of Australian Idol and the shallow appeal of Kylie, Britney and Celine lies a musical minefield rarely visited by the bland, button-down minds of the multinationals.
What to do with someone such as Jeff Lang, who doesn't conform to the narrow world of commercial pop for the taste-challenged?
Lang started life as an independent musician, playing intensely beautiful blues guitar and singing about Australia. But here he is with his wonderfully titled new album You Have to Dig Deep to Bury Daddy being released on the ABC Contemporary Music label and distributed by Warner Music.
Has he fallen for the siren song of the multinational and the national broadcaster? Was being independent just too hard?
"I approach record deals on a record-by-record basis," Lang says after playing a private gig for the folks at Warner Music to try to persuade them he is a talent worth their time and effort.
"I still own all my records. The early albums, like Cedar Grove, still come out through an independent distribution deal. My current records just happen to be distributed by ABC.
"I made Whatever Makes You Happy [his first album with ABC Music] about a year before I did a deal with ABC. I made it the way I would make any other record.
I picked the musicians I wanted to play with.
I chose the material and worked out how I wanted to record it.
"When it comes time to put the record out, you simply put out feelers and see who has got an arrangement that makes sense for you. Given that the record was completed and everyone had been hired and paid by me, it really still had an independent feel. It wasn't very different to putting out a record through Shock [Australia's most successful independent distributor], which I had done in the past.
"I asked myself, 'What can the ABC bring to the party?' It's like a licensing deal with a twist. While it is in their catalogue, it is their property, but when we stop working on the record together then the ownership reverts back to me.
"The guys at ABC understood where I was coming from and they understood how to get the record out and make more people aware of it. They're the things you want people who are putting your record in stores to be able to do."
This mix of independence and carefully constructed deals has worked well for Lang.
It has meant that, rather than being ruled by a large company's marketing and A&R divisions, he has been able to pursue his own path.
You Have to Dig Deep to Bury Daddy is an album Lang had wanted to make for years.
"There are a couple of instrumental things on this album that were actually recorded some years ago," he says. "They were in the background for possible inclusion on other albums. Specifically, tracks like And All the Snow Melted, I'm Not the One Sweating Like They Just Told Me a Lie and a banjo piece. They had a darker mood. They didn't seem to fit on the last record. So what I did this time around was, I put them on the table first. I wanted to use these instrumental pieces. So I started with them and recorded stuff with that in mind."
With those tunes as his base, Lang started writing. Most of the new album was written while he was touring Ireland last year.
"It's a pretty gothic country and they grew out of that," Lang says. "Between gigs I'd be driving and having to pull over and write stuff down. When I got to where I was staying, I would pull the guitar out and start working on songs."
The result, as on all of Lang's albums, is superb guitar playing and songs written out of a deeply felt blues/roots sensibility.
Lang is really the godfather of an Australia-based back-to-basics blues movement that now encompasses the John Butler Trio, Ash Grunwald and Xavier Rudd.
He was there before the rest and gives a unique and potent blend of blues virtuosity and passionate local sensitivity – very few musicians can write a song titled Bateman's Bay and make it sound both powerful and exotic.
Canberra Times
Jeff Lang really found his own voice on 2001's Everything is Still, proving with his ascetic approach of just guitar and drums that he has talent to burn. Now with the luxury of overdubs, Lang delivers another compelling roots album that once again makes you wonder why he isn't as big as John Butler. On You Have to Dig Deep to Bury Daddy Lang delves deep into his blues roots, channeling the dark and mysterious spirit of players like Robert Johnson.
Lang's songs here are film noir, full of lonely highways, shattered lives, battered women and murder. As a lyricist and singer Lang creeps up a notch every album. As for his slide guitar playing, it's hard to think of anyone who even comes close. Lang has phenomenal technique but he rarely shows off; instead, he tells wordless stories of the soul with that funny little metal thing in his hand. On When They Cut Me Down, for example, the searing solo says more about sexual jealousy than any words could. The bonus live CD is also excellent.
Here She Comes Again

And All The Snow Melted

Molasses And Stone

Carriages In The Half-Light Rush

The Lonesome Death

Between The Dirt And Sky

I'm Not The One Sweating Like They Just Told A Lie

In My Time Of Dying

Motherless Children Have A Hard Time

Lubbock Texas

Damaged People