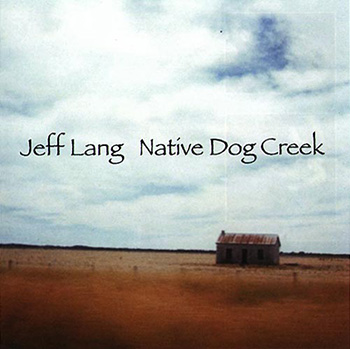 Native Dog Creek
Year of Release: 1996
Cat. Number: BMM206.2 Release Status: Available
CREDITS
Songs written by Jeff Lang except;
Track 2 by Lang/Wordley and
Track 11 by Chris Finnen
Produced by Kerryn Tolhurst
Engineered by Mick Wordley and Evan James
Recorded and Mixed at Mixmasters, Adelaide, SA
April 29-May15 1996
Musicians
Adam Dicker – Drums on 2, 3, 7, 9, 10
Dirk Dubois – Fender Bass on 1, 2, 3, 6, 7, 9, 10
Chris Finnen – Percussion on 1, 3, 5, 6, 10
Jeff Lang – Vocals and Guitar
Kerryn Tolhurst – Electric Guitar on 2, 9, 11; Lap Steel on 5; Tiple on 6, 7
Train Spotter's Section
Extra Tracks Recorded, But Not Used:
Father's Swan Song – electric band version – previously featured on Disturbed Folk as a solo acoustic version
Let Me Down – Solo acoustic – Live version previously featured on Disturbed Folk
Reviews
Mark D Rhythyms – October 1996
This is Jeff Lang's most accomplished, polished and accessible recording yet. Rather than trying to capture the excitement of one of Jeff's solo gigs, the guitarist and producer Kerryn Tolhurst have concentrated on show-casing each song, presenting it in the best possible way.
This often means adding Dirk Dubois on bass, sometimes Adam Dicker on drums, frequently Chris Finnen on percussion, and her and there Tolhurst himself on tiple, electric guitar or lap steel.
Lang swaps around between acoustic, electric and dobro guitars. Moods and textures vary from the wistful solo 'Never Loved the Man', the Celtic feel of "Burn That Bridge" to the gnawing bluesy side on "Heaven in a Cup".
I can't categorize the singing or the songs. You'll have to sample this for yourself. Fine songs, well recorded, from a rising star of Australian music who has found his own voice in the cluttered world of contemporary sounds.
Dave H – Coastal Blues News
I'd never heard of Jeff Lang so its been a pleasant find and a pleasure to review … Lang's vocals are strong and distinctive and a good balance to his faultless lead breaks. As technically proficient as Lang is, I think he is equally proficient as a songwriter. I admire the depth of his writings … I refused to return this CD and am coughing up the bread. I'll tell you what, if there are other Jeff Langs floating around this country please let me know.
Dave Ray – Beat Magazine
Jeff Lang has built up a reputation for being a guitar whiz, particularly of the acoustic and slide variety. Well, "Native Dog Creek' is the recording that will consolidate Jeff's reputation. However this recording does not stop there, and goes a long way to cementing Jeff's prowess as a song-writer.
Lee Howard – Sunday Herald-Sun, September 1, 1996.
Here is a fantastic release that serves to announce an exceptional talent and also to illustrate the maturity of Australian music … Lang burns bright with this collection of personal songs that will find an audience with lovers of folk-rock singer-songwriters and country-blues. The lyrics swing from the poetry of the title track and "In a Town Like This" to the dark side on "Killer", and the sound of the country on "Wind Changing" to the sophistication of "Heaven in a Cup".
Lang also proves as capable with his playing – on acoustic and electric guitars with effects, and on dobro – as he does with his words. The production by Kerryn Tolhurst is restrained, serving to highlight the strengths of a fine album.
Wind Changing

In a Town Like This

Never Loved the Man

Killer

I Still See You

Nothing to be Ashamed Of

Freddy

Burn That Bridge

Heaven in a Cup

No Trouble No More

Bonus Songs

Fathers Swan Song

Let me Down