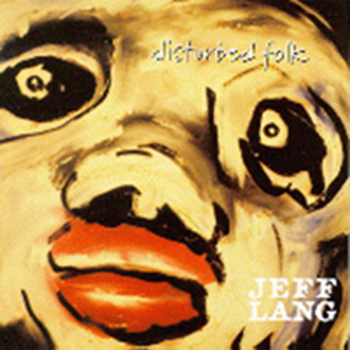 Disturbed Folk
Year of Release: 1995
Cat. Number: JL951CD Release Status: Not Available
CREDITS
Songs written by Jeff Lang, except track 9 by R Thompson and 15 by J Hendrix.
Produced by Jeff Lang and Mick Wordley
Live recording by Mick Wordley.
Editing by Mike Turrell.
Mixed by Mick Wordley at Mixmasters in Adelaide.
Tracks 1, 2, 3, 8, 9, 13, 14, 15
Recorded live at the Woombye Blues Club, Criterion Hotel, Woombye Qld
16th March 1995
F.O.H. sound by Neville Ratcliffe.
Tracks 4, 5, 6, 7, 10, 11, 12
Recorded live at Stooges Restaurant, Mooloolaba Qld on
18th March 1995
Jeff Lang: Churchill 6 and 12 string guitars, Airline Resophonic guitar, vocals and foot stomp
Train Spotter's Section
Shows Recorded for the Album:
Wed 15 March 1995 at Van Gogh's Earlobe, Brisbane.
Thu 16 March 1995 at Woombye Blues Club (used on record)
Fri 17 March 1995 at Redcliffe Blues Club
Sat 18 March 1995 at Stooje's Restaurant (used on record)
Planned recording of show at Round Midnight in Hobart, Tasmania, never eventuated.
Extra Tracks Recorded, But Not Used:
Due to the lengthy nature of some of Lang's performances (on tapes from Stooje's the exasperated owner can be heard, at one point well into the first set, asking Jeff if and when he is gonna take a break….to which he replied "eventually"; the two sets ran to 4 1/2 hours in total) there are a lot of extra songs which include:
Naughty Old Pup (Lang)
Hangman's Blues (Lang)
Flight of the Tabourine Terrier (Lang)
Galway to Graceland (Thompson) – a different performance was later to surface on Finnen and Lang's Live at the Vineyard CD.
Beeswing (Thompson)
Idiot Wind (Dylan)
Voodoo Child (Hendrix)
Lawyers Guns and Money (Zevon)
Rag Bag (Fuller) – a differnet performance was later to surface on Finnen and Lang's Live at the Vineyard CD.
Also, live versions of most of the songs from Ravenswood.
Reviews
By David Connelly
"Have you got something we can dance to?" Jeff Lang must have heard that cry so many times over the past three and a half years. So many times, in fact, that the guitarist/songwriter has actually written a song about it. A one-man show may find it hard to oblige the above request because in lesser hands than the inimitable Jeff Lang, it couldn't be pulled off. It would make a lesser man cry, pull out the guitar lead, and join the pissed punters at the bar, ruing the day that he ever took up serious songwriting.
A one man band so often has to have many hats. It also helps to have a good sense of humour. Jeff is fortunately blessed with both. It is no good trying to go into a pub and play some navel-gazing tunes and hope for the best. They are harsh critics if you don't measure up. On this new live album Disturbed Folk, containing a fresh bunch of new songs plus a couple of covers, Jeff shows that he is a man of the people, writing about the ordinary, everyday concerns that affect us all. If that's what a true folk artist is, then Jeff has a rare natural gift.
Disturbed Folk has the quality that Albert Collins, a man who Lang has played alongside, describes as "thunder and lightning".
Disturbed Folk opens up that reservoir of raw, untamed energy of a Jeff Lang live performance; switching moods from levity to gravity with the ease of the flick of a foot pedal. It's that ability to spice up a show with a light-hearted piece such as Brad Milcroft Wins Again to more weighty concerns in Father's Swan Song that typifies the mood swings that dominate a Jeff Lang performance. He doesn't dress them up – after all, he readily admits he has a poor taste in clothes! The songs stand as he does — on their own. That is their power; that is their appeal.
This album sees Jeff in the pub environment, his workplace since his tender teenage days. His characters are drawn from thoes environs; from the ripping yarns of pub talk to the private thoughts of a young man on the road heading off to the next town.
For three and a half years, Jeff has been plying his trade and widening his horizons. His guitar playing, while solidly rooted in the R&B groove he pieced together from his father's cherished discs, also pays homage to a more diversified palate.
His choice of covers from Richard Thompson's 1952 Vincent Black Lightningto Jimi Hendrix's Hear My Train A-Comin', gives an indication of the terrain he has crossed. He doesn't throw off his roots either. When he launches into an original like Spot Fires there are echoes of I Can't Be Satisfied sweetly humming in the lush undergrowth.
Disturbed Folk captures an asylum of characters and a songwriter who has expanded beyond the bounds of his awesome guitar talents. Entering the realm of the storyteller is a craft that Jeff has taken kindly to and there is a little of us all in Doctor Jeff Lang's casebook. Without too much clinical analysis, here is an album you can listen to. You can sing along as well. You can even dance to it, if you want to. But please don't shoot him — he's not just the guitar player.
When He Talks To God

Brad Milcroft Wins Again

S.C.W.A.G.

Something We Can Dance To

Spot Fires

Mother You Let Me Down

Four-foot Ogre (for J. Harman)

Semaphore Waltz

1952 Vincent Black Lightning

Bordertown Keith Intro

Bordertown Keith And The Tailem Benders

Feeling This Way

Father's Swan Song

Could've Been A Killer

Hear My Train A-Comin'

Bordertown Keith And The Tailem Benders: "Keith's Crawl" From field recording made by Gareth Hopper